Door Access Control System
---
Door Access Control System | As a business owner, you have invested vast amounts of time and capital into your workplace, including equipment, computers, vehicles, furniture, business records, and much more. You've also built a team of employees and professionals who serve your customers from inside the facility you've worked tirelessly to create. These people and resources are far too important to jeopardize and protecting them is a high priority task that should be handled with care.

Access control systems are essentially smart locks that require predetermined credentials to access different locations in your facility. You can lock down important areas that are not meant for visitors to keep your operations running smoothly while also keeping your staff and customers safe. These precautions protect your enterprise from unwanted events that can endanger your business's reputation and cost you financially. Ensure that your company is protected from accidents, burglary, theft, vandalism, and trespassing with access control.

Access control systems also save time and business expenses due to the following:
---
Liability protection
Ease of employee access
No traditional keys to worry about
Reduced cost of security personnel
Eligibility for insurance discounts
---
Verified Security's access control systems also integrate with other security measures, including intrusion security solutions. As one of a limited number of Honeywell Authorized Security Providers, Verified Security offers many access control options for your business.

---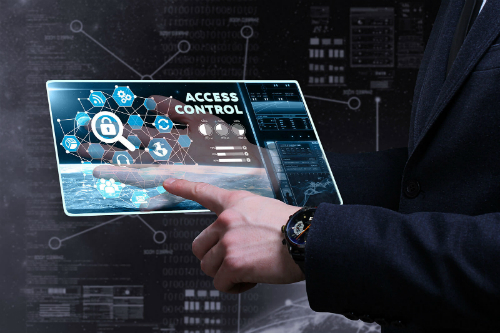 ---
---
Door Access Control System | The Benefits
---
Keeps Troublesome Individuals Out of Your Workplace
Limit who can enter your facilities with an access control system. With video monitoring integration, Verified Security's 24-hour remote surveillance team is alerted and can summon emergency services.
---
Safety and Liability Protection
Many businesses use machinery or dangerous chemicals in their production processes. Often, these present a danger to those who are unqualified to be around such hazardous materials. Verified Security's access control systems allow you to create restrictive zones, so only authorized people can enter hazardous areas.
---
Increase Ease of Access for Employees
Implement a state-of-the-art access control system that allows fast access for authorized employees, even with heavy foot traffic. Depending on how many employees need to access your building, you can choose between traditional- or new, high-speed access technology.
---
No Traditional Keys to Worry About
Old-fashioned keys have a tendency to disappear. With Verified Security access control systems, you never have to change the locks. For example, when an employee is terminated, you can electronically block that person from entry.
---
Saves Money on Security Personnel
With access control, your property is monitored for unauthorized access 24/7/365, so you can cut down on costly security guard expenses.
---
Types of Credentials
Verified Security offers a wide array of credential options, from traditional to cutting-edge:
---
Badges
Key Cards
Keypads
Smartphones
Biometric entry
---
These credentials contain technology that communicates with the door's access control panel which is connected to the door lock. For instance, a key card may contain a magnetic stripe that the card reader will recognize to disengage the electronic door lock. This eliminates the need for a ring of keys to be carried around the facility.
---
Types of Access Control Systems
Verified Security offers three types of access control systems: software-based, cloud-based, and standalone. All are effective, but each comes with different features and costs.
---
Software-Based Access Control
Software-based access control systems utilize dedicated onsite servers to communicate with access control devices. These systems work with traditional access methods, such as keycards, key fobs, and badges. These systems do not offer as much versatility as the more sophisticated cloud-based systems. This is because servers must be installed and maintained and regular software updates require an onsite visit from the security company.
---
Cloud-Based Access Control
Cloud-based systems run on servers hosted by the provider, saving you the cost and storage space of internal servers. They also save time and money through automatic updates that can be installed remotely. These systems also offer the ability to grant and revoke access remotely, and allow for system management with devices such as smartphones. They are compatible with both traditional access methods and state-of-the-art methods, such as biometrics.
---
Standalone Access Control Systems
For companies in need of a simple and economic system, a standalone, keypad access control system does the trick. These systems are built for both indoors and outdoors, have illuminated keypads, and are easy and inexpensive to install.
---